A thousand-year-old cave, a magic place where time expands and positive energy flows freely. The Apulian stone connects us to the nature, giving psycho-physical well-being.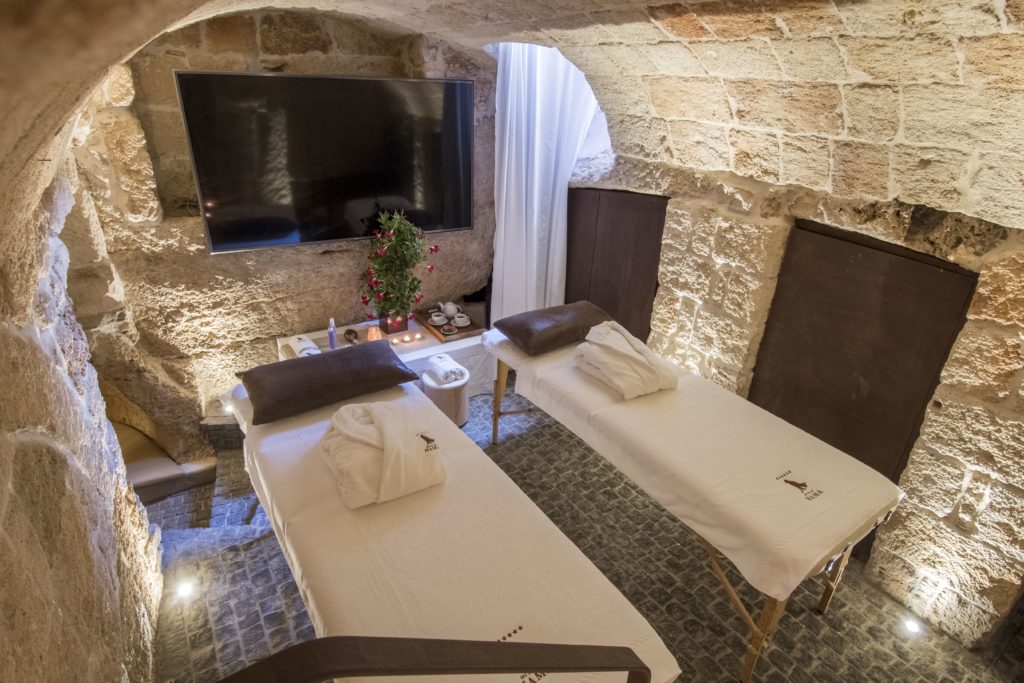 In our relax area, you can enjoy treatments and massages to get rid of everyday stress and make your holiday special.
---
Relaxing massage
Relaxes the muscle tissues and improves the mood, thanks to a series of manual actions on back, neck, arms, and legs.
Relaxing massage with our evo oil
Relaxes the muscle tissues and improves the mood. Deeply nourishes the skin and reconnects body and mind with nature.
Candle massage
Relaxes muscle tissues thanks to the warm drops of candles, nourished the skin thanks to the vegetable oils and butters of which is composed and involves all the senses thanks to the essences.
Hot or cold bandage with draining massage
Intensive 30 minutes bandage on abdomen, hips and legs that acts on excess liquid stagnation. Followed by a 30 minutes draining massage that tones tissues and reshapes the silhouette.
Decontracting massage
Deconstructs the body muscles through energizing manual actions and deep pressure technique. Recommended before or after any sport activity.
Back and neck massage
Relieves pain caused by muscle tension and stiffness of shoulders, neck and arms, soothing contractures.
Couple massage
Emotional candlelight massage performed by two operators simultaneously on nearby beds.
Body exfoliation
Removes impurities and dead cells leaving the skin bright and smooth as silk.
---
Gallery